Nearby experiences
With the high mountains that some places go straight to the sea, and as the only village in Vanylven with peaks over 1000 meters, Syvde is a uniqe place for sporty people. There are of course other activities for you to attend if this is not what you seek. The fact that Syvde is situated in the middle of Vanylven in short distances to the other villages, makes it easy for excursions in any direction. Below you can see some of the experiences you can easily reach from the Notaplassen pier/harbour.
Hakallegarden
The well known and very popular visiting farm is absolutely worth a visit when you are in the area. On Hakallegarden you can really experience life in the countryside and witness animals of many different kinds. Should you be tired of stroking alpakkas, riding horses or driving Gråtass (an old tractor), you can enjoy a good meal and a spectacular view in the cosy cafe on the farm. For more information see: Hakallegarden.no
Syvde – the place with five 1000 meters peaks you can climb in one day.
Notaplassen hamn with surrounding peaks on any side is a good starting point for walking in the mountains. If you just want a quiet walk in the woods or in the valleys or you want to have a nice trip to the many high mountains in Vanylven, then Syvde is the right place. There are lots of marked routes of different difficulties, which make it possible for anyone to enjoy nature.
For the most vigorous ones it can be a challenge to climb all the five 1000 meters peaks in the Syvde mountains in one day: Høgenipa (1097 amsl), Myrkevasstinden (1131 amsl), Sandfjelltua (1002 amsl) , Blæja (1142 amsl) and Lisjeblæja (1032 amsl). But it is absolutely possible, and some people have done it. If you are a real competitor, you can try to compete in the uphillrace "Blåfelden rett opp" (Blåfelden straight up). With a length of 4,38 km and the highest point of 842 metres above sea level, you have to be in real good shape to complete. Can you beat Øyvind Hellberg Sundby`s record on 35.48 minutes?
Wild trout and salmon fishing in Syvde
Should fishing be one of your interests, you can enjoy fishing in one of the beautiful mountain lakes in the Syvde mountains. Lisjerøfsdalsvatnet and Blæjevatnet are two of the these beautiful lakes where you can catch mountain troat (size 150-500 gram) for free without a fishing license!
In order to come to Blæjevatnet, follow the mountain road from Syvde to Ripsdalssætra (marked with read at the aerial view below). From "Notaplassen hamn og camping" the trips takes approximately 10 minutes by car or 1 hour by foot. The road has a very high standard and you can easily drive there with a camper van.
When you arrive at Ripsdalssætra you will see many cabins and a fenced parking place where you can park for free. From the parking there is a marked hiking trail all the way to "Blæjevassbu". The hike from Ripsdalssætra to Blæjevassbu takes approximately 1.5 hours.
In order to reach Lisjerøfsdalvatnet, continue driving on the road from Ripsdalssætra and to the end of the road (approximately 5 minutes driving). At the end of the road you can park your car inside a fenced parking area. From the parking area it takes 30 minutes with hiking before you reach Lisjerøfsdalen and the fishinglake. The hiking trail is well marked. For more information about the hiking trail see https://mrfylke.no/Morotur/Turar/Lisjeroefsdalen-rute-52.
If you are interested in fishing wild salmon, size 2-6 kilograms, there is a salmon river in close proximity to "Notaplassen hamn og camping" (marked with blue at the aerial view). A fishing license is required and this can be bought by contacting +47 482 67 409. Fishing is only allowed from the 15th of June until the 31st of July.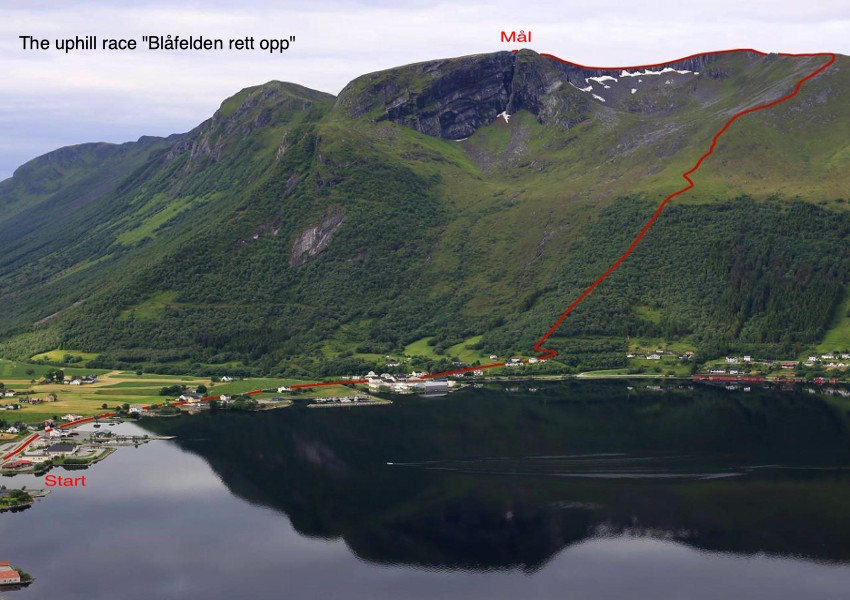 Kosterikjedagane
Every year, the first week of June, a group of volunteers arrange a weekend with a variety of activities for both elderly and young people. One of the main events this weekend is the uphillrace "Blåfelden rett opp". With a total length of 4,38 km and the highest point 842 meters above the sea is this a race that even the fittest will feel hard. Through the years well-known persons such as Oddbjørn Hjelmeset, Simen Østensen, Anders Aukland and Thomas Alsgaard have participated. For more information about the race see syvdeil.no or .
There are of course other activities and seeworthy arrangements this weekend. Art and culture are also very important. Music, stand-up, free breakfast, concert in the church, artexebition and a dancing on Saturday evening, are every year important events during this weekend.
Utsikten Fjellkro
If you want to enjoy a good meal at a reasonable price where you at the same time can enjoy a fabulous view of beautiful and magnificent nature, then this is the place to visit. The restaurant is open every Sunday from 12-18 from the end of June to "the end of summer". It offers a la carte meny and has licence to sell alcohol. To come to Utsikten Fjellkro follow the sign to Sørdalen from the centre of Syvde. When you come to the end of Sørdalen, drive the mountainroad to Øverberg and there you can`t miss it.